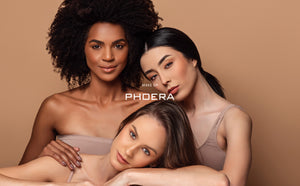 Meet PHOERA®
Our team of chemists work hard to create scientifically developed products that promote both health and beauty. We are 100% cruelty-free, innovative and science backed. We strive for the highest quality, formula and colors.
Let customers speak for us
Amazing!
I have rosacea and have tried all kinds of expensive foundations with limited success. Most recently inwas using Estee Lauder which I liked, but didn't really give great coverage. I tried Phoera because I saw an ad and it was reasonably priced. I am amazed at the quality of this product. It goes on smoothly, blends all imperfections and is long lasting. It also feels good on my face. For those who have Rosacea, you know how itchy and painful your face can get with certain cosmetics. No issues at all with Phoera. Highly recommend!
PHOERA Liquid Matte Foundation
Incorrect order
I really like this make up, but you sent me the wrong color. I ordered it a few weeks ago to have one in advance, so I just discovered it. You sent me Buff Beige, but I ordered Sand. Is there any recourse?
PHOERA Liquid Matte Foundation
I mistakenly ordered the same thing twice. Can I return the last one I just got. Bottles were not opened.
PHOERA Liquid Matte Foundation
Maravillosa
Me ayudo mucho con las bolsitas que tenia.
PHOERA Hydrating Eye Cream 15ml
Face Glam!!
Really, really love this makeup, have cried with it on..........ran to the restroom to look in mirror for streaks and NOT A ONE!!!! Was so shocked I kept looking for the streaks, but none to be found!!! Good job!!
PHOERA Liquid Matte Foundation
Makeup
I really like your makeup but I ordered the buy one get one free and I only received one could I please receive the rest of my order thank you
PHOERA Liquid Matte Foundation
Love it
Love this product.. I'm fair an always buy Buff Beige but this time bought Warm Peach plus cream blush in peach..Lovely presentation..Haven't used the blush as yet,but exactly what I'm looking for..Love Phoera!!
I'm in Australia,so it does take a couple of weeks to arrive,but worth waiting for..
PHOERA Liquid Matte Foundation
WRONG shade for me
Can I exchange for a different shade. It's too matte looking. I need more of a pink beige look. What shades do you offer!
PHOERA Liquid Matte Foundation
Never have received my order, so can't review product, but service is something to be desired
PHOERA Liquid Matte Foundation
Where is my Phoera??
I have never received my order!!
PHOERA Liquid Matte Foundation
Great Foundation
This foundation gives great coverage and lasts most of the day. Love it.
PHOERA Liquid Matte Foundation
Phoera order
I haven't received this order yet!
PHOERA Liquid Matte Foundation
Haven't received my order yet. Please send it to me tomorrow
PHOERA Cheek Blendable Cream Blush
Totally shocked at what a game changer it was
Totally shocked at what a game changer it was. My sister handed me a couple of colors she wasn't going to use and I thought I was gonna throw them away because I've only used powders and these were also very different colors then I would ever think of using. Very bright looking in the pot. BUT When I put on the Coraly colors on the cheeks and decided to use some near my eyes as a shadow, my entire face became luminescent and there was a lifting from the colors that took 10 years off of me . Didn't go on bright, blends incredibly. There's no going back to the dollar powder colors for me anymore.
PHOERA Cheek Blendable Cream Blush
New make up
I love ! Switched from estee lauder
PHOERA Cleansing Balm with Sweet Orange Essential Oil